Date:
Saturday, May 8, 2021 - 9:00am to 12:30pm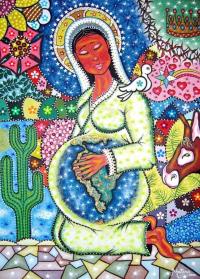 On this Mother's Day weekend enjoy an inspiring presentation, Sustaining and Nurturing the Fragility of Life, by lay Marianist and University of Dayton theologian Dr. Neomi De Anda. Neomi will help us explore life and creation through Scripture, Pope Francis' writings (particularly Laudato Si & Fratelli Tutti), and nurturing images of Mary and the sacred feminine. We'll hear indigenous perspectives and lament how air and water pollution and environmental racism affects the health and well-being of vulnerable communities. We'll reflect on connections between earth, water and our senses; how are we called to reimagine sacramental moments and experience springtime renewal?
We'll also be joined by spatial ecologist Katherine Hoenke, program director of the St. Kateri Conservation Center who will share about the life of St. Kateri Tekakwitha, an Algonquin-Mohawk laywoman, and share her personal insights for our encounters with nature and biodiversity today. Our time will also include prayer, optional sharing and dialogue, and time for personal reflection, observation and praying with the elements in springtime.  You'll leave with resources to nurture your journey into summer with a refreshed spirit. 
The retreat is $10, free for Friends of MEEC. Thanks to the co-sponsorship of the University of Dayton, UD students can also register for free. Please email for code. For more information and to register, click here.
About our Presenters
Neomi De Anda serves as Associate Professor at the University of Dayton (UD) where she teaches courses in religion, languages and cultures, Latinx studies, race and ethnic studies, and women and gender studies.  She holds a Ph.D. in Constructive Theology and is President for the Academy of Catholic Hispanic Theologians of the United States (ACHTUS). An active lay Marianist, Neomi was raised between El Paso and Corpus Christi and is a double alum of St Mary's (Marianist) University in San Antonio, Texas where she studied psychology (BA) and Catholic Leadership (MA). Dr. De Anda's research interests include Latinas and Latin American women writers in religion 1600-1900; LatinaXa Theology; theology and breast milk; chisme; the Intersection of race and migrations in conjunction with the Marianist Social Justice Collaborative Immigrant Justice Team; and partnering with the Hope Border Institute on a border theology at the intersections of the environment, migrations, labor, and women. She has been recognized as an outstanding faculty member in the State of Ohio by Ohio Magazine and as a Courageous Woman's Voice at UD. Dr. De Anda is the 2021 recipient of UD's Faculty award for Outstanding Service and has received grants from the Hispanic Theological Initiative, the Wabash Center for Teaching and Learning in Religion and Theology, the Association of Marianist Universities, and the Louisville Institute, where she serves as a member of the board. 
Kathleen Hoenke (Kat) is a Spatial Ecologist who serves as the volunteer program director of the St. Kateri Conservation Center, a national Catholic conservation group that promotes faith, integral ecology and life. They envision a faithful loving home on Earth for all people and the whole of God's creation. Kat directs the GIS and Esri Story Map programs, and is active in all aspects of advancing the mission, including public outreach, planning, land protection, stewardship, grant writing, education, and social media. Kat worked for The Nature Conservancy prior to her current work as GIS coordinator for a non-profit organization focused on protecting and restoring aquatic ecosystems.
Register