By Sr. Leanne Jablonski, FMI, Ph.D., MEEC director
I've been reflecting on the importance of visionary founders this month as we mourn the passing of MEEC's founder Bro. Don Geiger, SM, Ph.D., and celebrate the co-founders of our Marianist Family. Blessed William Joseph Chaminade, Blessed Adèle de Batz de Trenquelléon, and Venerable Marie-Thérèse de Lamourou were all visionary leaders 200 years ago in post-revolutionary, war-torn France who continue to inspire Marianist laity, sisters and brothers today. The old ways had failed during the revolution and they sought to rebuild and restore communities to meet the educational and material needs of the disadvantaged. Their calls to actions of care, mercy and justice shine still as lights in the darkness, giving us a legacy and example to follow. 
Father Chaminade, whose anniversary of death we celebrate as I write this on January 22, had a vision of women and men of all races and classes of society being one united family. He began the Marianist movement by gathering a few young students and inviting them to return for another meeting with a friend until the small community grew to hundreds of members in the Sodality of Bordeaux. Some of them became the first Marianist brothers. Adele was similarly networking her teenage friends in Agen, choosing to spend her time in educational service and sharing her family's resources to meet the needs of the women and youth of the countryside. Their visions joined up, and Adele founded the Marianist Sisters.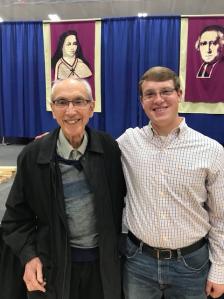 Bro. Don similarly mentored students over four decades, teaching them to share their science knowledge and faith in service of societal needs. Thirty years ago, he assembled a small group of volunteers to plant a prairie on a gravel pit, the initial act of faith that inspired  the Marianist Environmental Education Center. His open invitation to get involved continues to this day.  We aim to resemble Father Chaminade's image of being a 'spectacle of saints' like lights on a hillside.  He believed that joyful, faith-filled examples of inclusive, hospitable outreach to others would be a positive 'contagion' that would catch and spread to others. What an evocative image for this pandemic time - that our positive actions and planting native plants can be as catchy as the disease ! Certainly Bro. Don's enthusiasm can live on through us. 
When days are gloomy, lonely or dark, I look up at a clear night sky and know I'm not alone. I imagine these exemplary leaders who have gone before us smiling down on us, cheering us on and praying with us as we continue this work in our day and time. After Don's funeral, I walked in his memory through the Marianist Nature Preserve and the Bro. Don Geiger prairie. Even in the dead of winter, the prairie that he envisioned stands tall with flowing waves. The ground shines with the golden ribbons of grass blades, and the little bluestem grains catch the shimmering light of a sunny midday. I smiled through my tears of grief. We need these gentle reminders to be healing balm for the sadness in our own heart, and to restore hope and courage.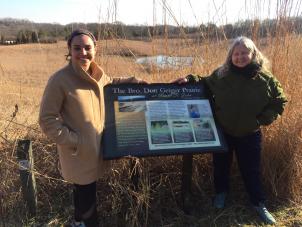 I share with you photos of two of Brother Don's youngest mentees. Meg Maloney volunteered in land service with Don every Saturday morning beginning in her first month as a UD student and stayed in touch until his death on January 29. Seven years later, Meg is graduating this spring from UD with her M.S. in Plant Ecology. She has been part of the team developing Dayton's resilience and sustainability plan as a grad assistant with UD's Hanley Sustainability Institute. Peter Evans met Don in eighth grade and was our Marianist PULSE volunteer at MEEC for two years. He and Don companioned one another by sharing hope and stories as they did their work. Peter has just returned to Mount St. John after a year of aspirancy with the Marianist Brothers in San Antonio, Texas and entered the Marianist novitiate at Mount St. John, the same place that nurtured Don's dream. I'm reminded of Mary's Magnificat of praise in Luke 1:50, "God's mercy extends from generation to generation."  I am grateful to have received so much from Don and to be able to pass those gifts on. I pray this blessing on all of us, that we do tribute to our leaders and founders by living out their legacy and imitating their shining light.